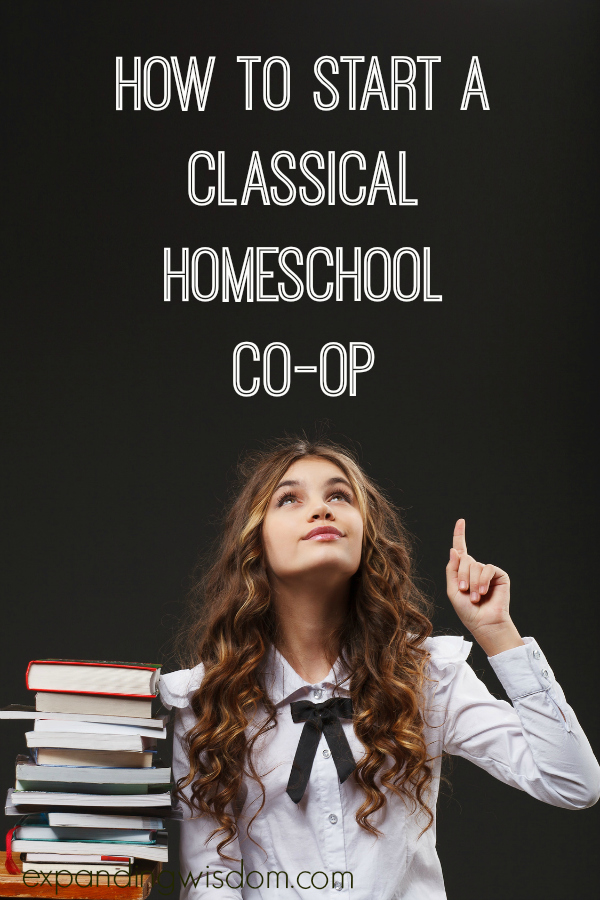 It was about a year ago; my husband was still out of work, we had no extra money, and the community I was part of was not cheap. The class I had been teaching at that community was not filling up, so it quickly became apparent I would not be able to pay the fee for our family to be involved. I was devastated. All of my friends were in that community. I felt all alone. I could not believe God was letting this happen. I could not bear the thought of facing a year without a Christian classical community to do life with. What was I going to do?
The good news was, God had a plan. Of course, I couldn't see the plan until I gave everything over to God, and even still it has remained a bit blurry, only revealing itself at the moment of necessity.
It just so happened that one of my friends was going through the same thing. As we began conversing about the predicament we found ourselves in, we both knew we could not be without community. She also knew a couple other families who might be interested in getting together. So we asked around and tried to figure out what we would do and how we would do it. Our plan was to meet for a year and then go back to the communities we just left. Ha! Again, God had a plan. Our co-op went so well that it grew mid-year, and we will continue with it next year with a few more families. In fact, if it hadn't been for the co-op I would not have started this blog.
We knew two things as we began the planning. One, we had to have community and two, we were not willing to sacrifice Christian classical standards for educating our kids. My friend was well acquainted with Charlotte Mason and Classical Education. We both viewed Charlotte Mason and Christian classical education as the same thing. In fact, we both felt that Charlotte Mason is one of the best modern embodiments of Christian classical education we had available to us today. Therefore, we decided to use Charlotte Mason's volumes along with David Hick's book Norms & Nobility for patterning our co-op.
Beyond this, we didn't know much about what we should do or how we should run things. We just choose materials, a day of the week to meet, and a location and started meeting. The year was a huge learning experience. We morphed over the year, learned what worked, what didn't, and gained some vision for the endeavor. We also grew closer together as friends, both moms, and kids.
As we reflected on the year completed, we realized there were several factors that made our endeavor successful. In addition, we realized that other families could be in the same situation we were in. Therefore, we put together this list for you. We do plan on writing more about these areas throughout the life of the blog, but in the meantime, please don't hesitate to reach out and ask questions. You can also connect with us in our Google+ Community created just for our readers on this blog. To receive an invitation just join the mailing list by entering your name and email above, and you will receive an invite immediately.
20 things to consider and do before starting a successful Christian Classical Co-op
1. Pray & throw off ambition
Take a moment to pray and assess your why. Be open to all that the Holy Spirit would bring to your attention. Even if it is something you'd rather not consider. Be brave and consider it all. Be brave enough to ask the following questions and answer them honestly. The success of your co-op and the peace of your family depend on it. Why do you want to start a co-op? Do you really need to? Are there great options already in place that are doable for your family? Do you feel some sense of calling to start a co-op?
2. Don't reinvent the wheel
This is an extension of question 1. Be honest, is there a co-op or community already in place that would work for your family. If it won't work is it a logistical impossibility or a relational issue. If it's a relational issue, stop now and go make amends and restore the relationship. Building a new endeavor in reaction to a bad relational experience is a recipe for disaster. Once you have settled those issues and you know you should move forward, look at a model that already formed. While there are several models one could look at, we are looking to Charlotte Mason and David Hicks for inspiration. Using forms that have stood the test of time help to guard your community from wandering off the path of the Christian classical tradition.
3. Pray some more
Keep praying through the whole process and be open to the leading of the Holy Spirit
4. Find you sister muse
Next to prayer if I can pinpoint anything that has made our co-op a success, it is this! Find your sister muse!! Wendell Berry says it this way
"There are, it seems, two Muses: the Muse of Inspiration, who gives us inarticulate visions and desires, and the Muse of Realization, who returns again and again to say, "It is yet more difficult than you thought." This is the muse of form."
I am the Muse of Inspiration, all the way. If I had tried to do this co-op by myself, it would have been an epic failure. I would have taken on WAY too much and quit half way through. If it had not been for my sister muse, The Muse of Realization, also known as Dara, we would not have continued and thrived. If you are all inspiration and visionary, find someone who can bring you down to earth even if it means making you crash land. It is worth it. If you are super realistic, find someone who can inspire you and be a visionary for your group. You need both. In fact, the most successful brands in the world have these two kinds of people at the head. It usually happens by accident. It did in our case, or maybe you could call it a supernatural accident. If you are meant to do this, God knows what you need, and will provide. Just keep seeking first the Kingdom of God.
5. Choose leadership who gets it (2-3 core leaders only)
It is very important if you want to maintain the standard of Christian classical education that your leadership be deeply committed to this pursuit. Everyone in the community does not need to be this person, but some of you do. It is vital that you have a strong 2-3 people leading your group that are committed to Christian classical principles. Any less than that and you will find compromise not far ahead. Any more than that and there are too many personalities, and compromise and frustration will be soon ahead. 2-3 people committed to understanding, growing, and sticking the Christian classical model of education is a great start.
6. Choose a location
We meet at my house. It keeps it free and small. We limit our enrollment to 8 families. We want this endeavor to be a thriving community for a few families, not a national empire. Small is good for our purposes. This model is exclusive in that we cannot invite everyone, but it is extremely inclusive because it is easily duplicateable for other groups around the world. Most people can make an 8 family co-op happen. That means more solid Christian Classical communities in more places, without the burden of finances standing in the way.
7. Commit to expanding wisdom and commit to extending grace
Do not apologize for the good, true, and beautiful standards of education and don't compromise where it matters most. At the same time respect that we are in the tension of the real and the ideal. Pray continually that we judge rightly in the process.
8. Decide on number of families and how work ought to be divided
This is important to decide at this point, because it will determine how many subjects and classes you can attend to in your co-op without having individual moms doing too much. We have a one class per mom rule. Once every mom is teaching one class we stop adding classes or we combine classes. For example, we have chosen to do writing/literature, history, Shakespeare, art, and nature study. We do Nature study and Shakespeare altogether k-12 and then writing/literature, history, and art are divided into upper and lower levels. We found discussion and growth were quite hindered when we tried to put everyone together for these classes.
9. Clearly define all roles and responsibilities
This is so important and so easy to overlook. I am the queen of thinking something in my head and assuming others are having the same thought. You should write down all the teaching and group-member roles and clearly write out what their responsibilities are.
10. Choose resources
Once you have all of the above in place then you are ready to choose which resources you will use. Have fun, keep it simple, stick to your standards, and don't reinvent the wheel.
11. Create the logistical documents (agreements, enrollments, and calendars)
We created a family info sheet, an academic calendar, and a community agreement. These three documents help to clarify roles, responsibilities, and expectations. Since there is only a small supply fee for our co-op, these documents help to create the realization of commitment in the minds of the participants. We decided ahead of time how to handle conflict and what we except of each family and teacher and then included that information in these documents.
12. Paying for Co-op without money
One problem with a free co-op is that people do not hold as much value for it as one that costs money. I wanted to make sure we didn't have to deal with this. Therefore, we chose to have peple pay with their time. In addition to each mom being involved, each mom also commits to reading a book on classical education and attending the mom's night out once a month where we discuss the book. This does several things, one, it implements a personal growth plan for each mom, with accountability. This is essential for the classical teacher. Second, it provides fertile ground for iron to sharpen iron and friendships to grow. Third, this kind of arrangement will only be attractive to moms who are willing to sacrifice time to cultivate their own minds. If you want to make a free co-op work and it still be a quality Christian classical environment, you must be stickler about this. That doesn't mean you kick someone out if they don't read the chapter, but it does mean you are honest with others about the kind of families that will feel at home in your co-op. I love Wendell berry's quote "A poem can't be about everything." He is right, and every homeschool mom can't be in the same co-op and that is okay. This may seem a little harsh, but we have to be honest and graceful. When people have visited our co-op, I tell them in love the kind of families that make a great fit. Sometimes it is easier to say who would not make a good fit. For us the only families who would not make a good fit are those who are too busy to take leisure time to learn and those who are very inflexible. I do not make a judgment about whether they are a good fit; I let the Holy Spirit do that. My job is to honestly inform; that's it. It would be a disservice to a mom to not let her know honestly what she will be required to do throughout the year.
In addition, every six weeks we have a teacher seminar (more about that below.)
13. Choose at least two people to manage money, budget, and enrollments
As people enroll, someone will need to keep track of the information and the money. In addition, someone needs to decide where funds should be allocated. Ideally the group of 2-3 core leaders would do this. In order to keep records accurate and honest, it is helpful to have a two person system for managing money and purchases for the co-op.
14. Pray and assign roles
Once your enrollments are in you should pray and assign teaching roles.
15. Plan MNO & Teacher Seminars
Plan your academic calendar ahead of time. You should include all Mom's night out dates on the calendar. In addition, every six week we have a teacher's seminar. This is modeled after the David Hicks teacher's seminar he lays out in his book. Of course, Hicks' seminar is designed for full-time faculty members, so we altered it to fit a homeschool co-op. Every 6 weeks we stay an extra 1-2 hours and lesson plan together for the next 6 weeks. We discuss the big normative questions we are asking in classes, give time for questions and feedback regarding teaching or content, and we discuss the reading and content. No one is left alone to fend for themselves. We are a sisterhood of moms and we stick together. This is also the perfect environment for mentoring moms new in the Christian Classical tradition.
16. Plan other fun events at your leisure
This year we had a couple holiday parties, an end of the year party, and an end-of-year Shakespeare performance. Next year we decided to plan an arts night each semester. We will find a larger facility for an evening and hang up artwork, put on our Shakespeare performance, have food and music, and enough room for friends, family, and grandparents. We also decided to do a birthday potluck at lunch time once a month to honor that month's birthdays. Instead of everyone packing lunches we all bring ingredients for a larger feast and we celebrate!
17. Plan the details of the year
Now that you have a calendar, standards, teachers, etc… break out the chosen materials and break down the content to be covered. Make sure you think through and spell out what families and students will be required to do in and out of class. Surprises in this area are not happy. Also do a planning round first with the core leader team and clearly write down the rock solid forms for each class.
18. Schedule an orientation/the first parent seminar
Once you are done with the initial planning, do your first teachers seminar/orientation with all teachers and finish planning. This way the other moms are clear about where they have flexibility and where they don't. For example, in History the inflexible form is that we are discussing a topic in history through the use normative and should questions. Therefore, the teacher is free to make choices as long as she is still doing this. She couldn't however decide just to give a multiple-choice test on the reading assignment. Here you will orient all moms to the forms and go through each class and flesh out some detail. You will need to have an agenda to keep the meeting an appropriate length of time.
19. Be humble and flexible, let the Holy Spirit in, remember that iron sharpens iron
Life is messy; sanctification is messy, and we all mess up. Remember this, be humble, quick to repent, giving grace whenever it is needed, regard others as more important than yourself, and out do each other in giving honor.
20. Relationships first
No matter what comes your way through this experience, relationships and people are first. That means when conflict arises, never sacrifice relationships for the sake of your personal agenda. Meet each other where they are at and grow together.
Favor and grace to you as you embark on this journey. I would love to hear about the successes each of you are having in your co-ops and communities.
Expanding wisdom, extending grace,
Jen
Shared with Hip Homeschool Moms