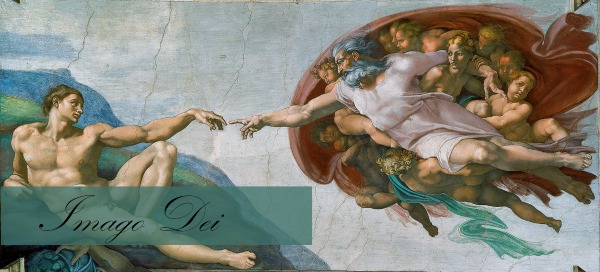 Today's 'Imago Dei.' post is from our friend Heidi White. If you are new to the Imago Dei series then you should know how it began. The Imago Dei series is all about you and your story as you have encountered the truly human things that transform us more into the image of our Creator. I first had the idea for this series shortly after launching this blog, but did not know exactly how it was to look. Then, I received a gracious gift, an email from a fellow Christian classical mom sharing her story. Immediately I was taken and knew that our series had found its form. Let the series continue.
Here is Heidi's Story
My family's road to classical education began a long time ago: in my own childhood. As I retraced the steps of my personal journey to becoming a classical educator at home and in a cooperative school, I returned again and again to memories of myself as a little girl. Seven years old, curled up on the living room sofa, eyes locked on the pages of The Little House on the Prairie, lost in the wonder of a story for the first time. Nine years old determined to write a sequel to Rilla of Ingleside because I simply could not accept that the installments of the life of Anne of Green Gables had truly ended. (I wrote six chapters and kept them in a binder in my basement -to this day.) Ten years old, in tears, throwing Little Women across the room when Beth died. It took me a week to pick the book up again. Fifteen years old, falling in love with Mr. Darcy. My parents, who read The Chronicles of Narnia out loud in the evenings. Me, over the years of my childhood, delving into a richly illustrated D'Aulaire's Greek Myths and a lavish volume of classic fairy tales that I read over and over.
My grades were shaped by my private school education, but my mind was shaped by books. I remember some social and academic lessons from my classroom experiences, but I remember learning from stories. Through the influence of stories, I never lost my love of learning. Immersed in stories, I also learned culture and history, science and logic, philosophy and theology. Stories taught me that academic disciplines are never as isolated as they are in a classroom setting. Mathematics has always been tied with language and philosophy, literature with history, science with theology, all within the entwined human drama of relationship, love and ambition throughout history. The development of civilizations is a tapestry, not a quilt, and it takes place within the divine context of His-story.
Through stories, I learned about suffering and redemption, glory and fallenness, truth and lies, virtue and vice. I learned that there are deep mysteries to being human, even in childhood. Stories taught me to be well-acquainted with these mysteries and their crises long before I encountered them in my own life. I had known about suffering and its moral dilemmas before my personal sufferings brought temptations and pain to my own flawed life. Stories were like a surging river, ever-expanding the banks and boundaries of my young mind, which grew deep and wide with the steady stream.
Because of stories, I evaluated every moral choice by the characters of the books I read. "Would Anne Shirley lie to Marilla the way I want to lie to my mother?" "Would Jo March cheat on this test, even to get an A?" "Would Lucy Pevensie refuse to invite this friend to her birthday party?" My literary heroes became my moral guides. This happened quite by accident. My parents loved books, so their children loved to read. But my parents originally intended that the moral instruction of their children should take place at church and in the family, which is wise and good. It was unintentional that the books I read, which were readily available in my home, were my primary instructors in virtue. I was shaped by the power of story far more than by the influence of even the most righteous moral imperatives. Whether that was right or wrong is beyond the scope of this article, but it has made me think profoundly about the education of my own children.
My husband and I originally chose to homeschool our two young children because my husband travels extensively for work and we wanted to make his schedule work for our family culture rather than against it. We thought it would be wonderful to travel as a family, which it has been. Neither my husband nor I sought for the richness and depth of the classical tradition – we simply wanted a flexible schedule to meet our family goals. As I began to research philosophy and curriculum, I encountered classical education for the first time. To my surprise, I recognized it. It was the way I had learned as a child, not in school, but in my inner life. It is an educational philosophy steeped in great ideas, high ideals, rigorous pedagogy, and expectations of excellence rooted in a high view of the Creator and His creation. I knew from the first (now heavily underlined and extensively commonplaced) paragraphs of Norms and Nobility by David Hicks that the entire trajectory of my motherhood had just been intentionally and masterfully directed by a lofty but realistic vision that I had, at heart, grasped but been unable to formulate and articulate.
The classical tradition captivated me from the moment I encountered it because it is a love story about being fully human. It acknowledges human history, in its tensions between glory and darkness, and encourages young minds to delve into it in order to find the imago dei in themselves through engaging it in those who have gone before us. It requires children to work hard, to rise above mere performance in order to rule themselves. It casts a vision over every scholastic experience, from math drills and sentence diagrams to literary discussions and Scripture memorization. We do those things for a purpose, because even knowing the difference between a direct object and a subject complement can contribute to a well trained mind and a love of the good, the true and the beautiful if a teacher will cast that vision and a student will receive it. The classical tradition provides access to the greatest minds from the dawn of time, and challenges teachers and students alike to imitate them as we create for ourselves. Most of all, the classical tradition, above all, other educational philosophies, embraces and promotes the power of stories in the life a child. As that child who was educated by stories, I have begun to wonder greatly what will come in my family by actually teaching this way on purpose.
Today I returned home from a short getaway with my husband. My children had stayed with close friends, another homeschooling family embracing the classical tradition. My eight-year-old son had been reading a children's version of The Odyssey while we were gone. As I tucked him into bed, he hugged me sleepily and said, "I wonder if Odysseus ever gets home to his native land. I'm so glad you are home, Mama. Everybody wants to come home." I gazed in wonder at my little son, snuggled under his blankets with no idea of the power of the Great Idea that had just dropped from his young lips, who recognized through a story a fundamental longing in the human heart. "Everybody wants to come home." The classical tradition can help us understand to a greater degree that this world is not yet our home, but still contains goodness, truth, and beauty. Great books and great ideas make our souls greater and equip us to find our own way home, even if we are lost and embattled like Odysseus. That is what classical education is to our family; an invitation to the homecoming of being fully human, together.
Heidi White is a classical homeschooler with two young children.  She teaches Literature and History at a cooperative classical school in Colorado Springs called The Journey School.  Heidi also writes fiction and is currently working on a writing project about shaping what children love through education and discipleship.[/author_info] [/author]
[box type="shadow"] Thank you for sharing your story Heidi! For those of you reading this, I would love to hear your story as well. If you are interested in sharing contact me for more information. Blessings.[/box]