In our last post,  we discussed mimetic instruction, one of the two modes of teaching classically. Today we will go into Socratic instruction, also called Socratic dialogue. Socratic dialogue is the most misunderstood of the classical modes of teaching, but also incredibly powerful for affecting change in a person. I am going to share a few myths about Socratic Dialogue, a few truths, and a few principles the teacher needs to attend to in order to teach this way.
True Socratic dialogue is not a literature discussion. It is not a predetermined set of questions used to analyze a text, and it is not a circle of students discussing a book or topic, these situations are simply discussions. They are good, beautiful, and valuable discussions and many times lead to situations where a Socratic dialogue is called for, but they are not Socratic dialogues.  In addition, a Socratic dialogue is not a planned lesson; one never knows when it will come up.
Socratic dialogue became famous in ancient Greece through the life of a master teacher and philosopher named Socrates. Socrates spent his whole life committed to finding truth, nothing was more important to him. He was willing to be a fool in the eyes of others and eventually was executed for his pursuit of truth. The way Socrates went about discovering the truth and helping others do the same
was by listening to what people said, asking questions in response, and co-inquiring along with those he asked the questions to.  Socrates became famous for the questions he asked; maybe that is why so many associate Socratic dialogues with deep and thought provoking questions. Certainly deep and thought provoking questions are contained in the Socratic conversation, but there is more to it than that. Here is an interesting painting of Socrates engaged in conversation with one person. Which one do you think he is talking to? I find it amusing and intriguing the expressions of the various people throughout the scene. If you have ever read a dialogue between Socrates and anyone else, you will see how true a depiction this really is.
So, what is Socratic instruction? In short, it is a form, a teaching method, tailored to each situation and student, a co-inquiry, and it is the way to correct a false judgment or belief in a person on their particular journey towards truth.
There are three basic stages to the Socratic lesson, the ironic stage, the metanoia moment, and the maieutic stage. The ironic stage begins when the teacher recognizes that the student's understanding has broken down and they lovingly work to deconstruct the student's current understanding because it false. This process is vital because when a person believes a falsehood they are feeding on lies rather than on truth. The truth nourishes, but lies destroy.
Therefore, correcting false thinking is the loving and nurturing thing to do. Sometimes a teacher may not know precisely what the student is missing or misunderstanding. Therefore, the first set of questions –and really the whole process –is all about the teacher truly seeking to understanding the student. The teacher asks simple comparison and definition questions in an attempt to discover and expose the contradiction in the student's thinking.  For example, the most basic Socratic question is "What do you mean by that?" The first stage comes to completion in the second stage when the student realizes what they were believing is wrong. This is called a metanoia moment. It literally means to change your mind and turn around, in other words, it means repentance. After this, the teacher leads the student through the maieutic stage. This stage is all about reconstructing the student's thinking. You can do this by going back to the types of the mimetic lesson –if you were in the process of teaching one – or by giving some examples or analogies of the truth/idea you were discussing as it occurs in real life. The student can then contemplate and compare these analogies or types until they "give birth" to the realization of the truth in their mind.
Due to the nature of the Socratic Inquiry there are a few principles that can help a teacher navigate through and stay on track as they lead their student towards the truth.  First, respect and love should saturate the entire experience. The teacher should have an utmost respect for the student as a fellow image bearer and co-inquirer into truth.  At every level, the questions, responses, body language, and tone of voice should reflect this attitude. A simple way to do this is the way you phrase your questions. You can respond to what you think you heard the student say by repeating it back to them. You could say "So if I hear you correctly you said ____" or, "You said _________, did I understand you correctly?" When giving slow steps of insight you want to try your best not tell them the answer, but lead them to the answer.  You can ask questions like "What do you think about _______?" or you could ask them to compare some idea with an analogy or even listen for statements they make and then ask them to compare the statement they made back to the original idea.  All of these are ways for you to hold the truth in your mind while respectfully helping the student move towards it for themselves.  Second, patience and leisure is required. I have never experienced a Socratic conversation that brought the student all the way to the realization of the truth in a rushed, chaotic, or stressful environment.  It is a leisurely pursuit and a spectator sport.  Only one student and one teacher can participate. In addition, all parties must release their own agendas and to-do lists. If you have a million things to do, forget all about it and be in the moment. Tomorrow will worry about itself. This is critical! Third, you must have an unrelenting commitment to the truth. The truth must be more important than being proven right.
An air of arrogance or a spirit that says, "I know it all" has no place in the Socratic dialogue.  The genuine Socratic lesson has both student and teacher learning and making connections. Sometimes I find myself becoming fearful that my son or daughter will be ruined if they do not get this most important truth I am trying to teach, so I react by micromanaging and controlling every step. Nothing virtuous or fruitful happens when I go there. At that point I have to step back, repent for participating with fear and control, and then reproach the lesson when another fitting time occurs.  Lastly, there will come a point in each Socratic lesson where you have to know what you are talking or thinking about. What I mean by that is, when you start out in the Socratic lesson you really only need a realization that something doesn't feel right or harmonious, even if you cannot name it, or explain it.  But as the questions progress there will come a point where you have to apprehend exactly where the student's thinking broke down and what precise truth you are trying to direct them to.  Without this, you may find yourself and your student feeling frustrated or needing a respite.  Of course, it is fine to leave a Socratic dialogue and come back to the conversation as leisure and time permits. The Holy Spirit leads us into all truth; we can trust the Holy Spirit to do that.
I know this can seem a bit unapproachable at times, but I can leave you with some resource suggestions to continue learning about this vital way of teaching. We have launched a 'How to Teach' page where we post and write about real mimetic and Socratic lessons. The mimetic lessons will be much easier to capture, but please pray that I will have opportunities for Socratic conversations where I can also record or remember enough to share with all of you. We also have recently published our first e-book 'A Guide to Teaching Classically'. The best part, it is free for community members. You can join the community here. As a side note, anytime I do not know how to do something, I give myself a mimetic lesson. I find examples from reputable sources and compare them until I begin to apprehend the truth of it. In addition, if there is someone available, I ask another person for their insight and if they think I am on the right track, most importantly I pray. All truth is God's truth and He wants me to know more of Him. So if I want to learn more about math, I pray. If I want to gain insight into a Scripture, I pray. If I want to understand rhetoric and Socratic discussions, I pray! I have NEVER been let down in this. Every time I pray for help in learning ANYTHING, the Holy Spirit leads me to the right resource, person, or thought. God is so faithful and cares about the details of your life. Ask for His help. He will meet you exactly where you are.
For more examples of Socratic conversations I recommend reading Plato's dialogues likes Gorgias, Meno, and Phaedrus. I know there are several more, but these are the ones I have read. In fact, if you choose one of these then we can discuss them in the comments section and in our Google+ Community. Reading is so much more fun in a community. You can join our community here.
Expanding wisdom, extending grace,
Jen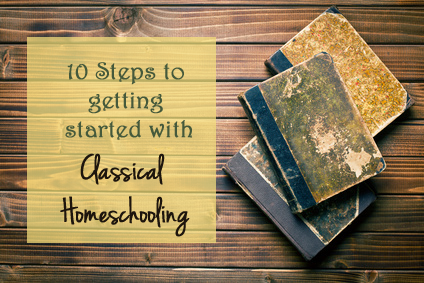 Return to the Getting Started with Classical Homeschooling series