I don't know about you, but I love looking at the stars. It is entirely enchanting. I know I am not the first person to say so. In fact, studying the stars, their movements, and what that all means is an art that belongs to the 7 liberal arts called Astronomy. I talk a little bit about in our series on the 7 liberal arts.
I have heard it said that every major scientific discovery came about, or was at least influenced by practicing the art of astronomy.
Wouldn't it be great if we could enter into this art a little more? Well, that is what this week's giveaway will help us do.
We are giving away, as our final Birthday giveaway, A copy of 'Classical Astronomy's 'Signs & Seasons: Understanding the Elements of Classical Astronomy.'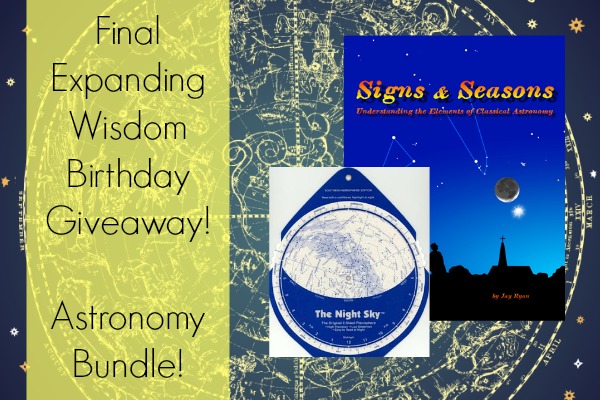 This curriculum, in its entirety this curriculum best serves the high school or adult student. However, many families have used it successfully as a read-aloud for the whole family.
In addition to 'Signs & Seasons,' we are giving you a special map called 'The Night Sky: Star Finder' to help you navigate and name the constellations.
To enter the giveaway, simply use the entry form below and then tell us in the comments "What is one question you would like to ask the author of 'Signs & Season', Jay Ryan, about Astronomy or his curriculum.
Thank you so much for celebrating our Birthday with us! May the Lord be with you.
Expanding wisdom, extending grace,
Jennifer