Playing with Watercolours by Lynn Seddon
{Post and Paintings by Lynn Seddon}
For many years, I have kept a copy of 'The Country Diary Of An Edwardian Lady' by Edith Holden. A reproduction of the naturalist's diary that Edith kept for the year 1906, the book is a real treasure for those who pursue beauty, goodness, and truth. With watercolour and words, Edith faithfully recorded the British countryside around her. She included her own observations of the natural world and sprinkling of poetry by the likes of Burns, Tennyson, and Coleridge. She also entered mottoes, information regarding Saint's days, and other days of note for each month.
This summer I set myself the goal of improving my watercolour skills. I wanted to be able to offer direction to my daughters when they were painting, and I wanted to improve the renderings in my nature journal. I checked out a tower of watercolour books from my local library. They were helpful to a point, but I still struggled to capture the style of my nature study 'hero', Edith Holden.
Whilst perusing 'The country Diary' early one morning, it suddenly hit me! How do we Classically teach beginning writers? By copying examples of great literature, of course! And here was the solution to my learning to paint; copying the beautiful works in Edith's nature diary.
Allow me to share with you what I have learned over the last few months. I hope this will inspire you to use watercolour to illustrate your nature journal.
~ Begin by choosing simple pictures to copy.
It may sound obvious, but by choosing pictures that don't have a wide range of colours, you are able to see the light & shadow of an object much more easily. This will enable you to learn how to add tone, create shape, and make objects appear three dimensional.
~ Make a very light pencil sketch before you begin painting.
A rough sketch will enable you to work out size, proportion and main details before you commit to paint.
~ Look for the tones within a colour.

I generally use three shades for each part of a nature watercolour. For example, when painting blackberries, I would begin with a very light wash (dilute consistency) of lavender coloured paint. I would paint the whole of each individual blackberry with this wash. Once this was dry, I would mix up my darkest tone. Deep, dark purple, almost black, to outline each part of each berry. Lastly, I add a mid-tone, allowing a little of the original lavender wash to remain. This shows the highlight & makes the fruit appear realistic.
~ Practice the dry-brush technique.
Perfect for nature journals, this is the key to Edith's technique. A small amount of water is used to create a creamy paint consistency, rather that the very wet paint, usually, associated with watercolour. A small amount of paint is used at a time, hence, 'dry brush', which makes controlling the colour easier. Texture may also be introduced, using the bristles of the brush.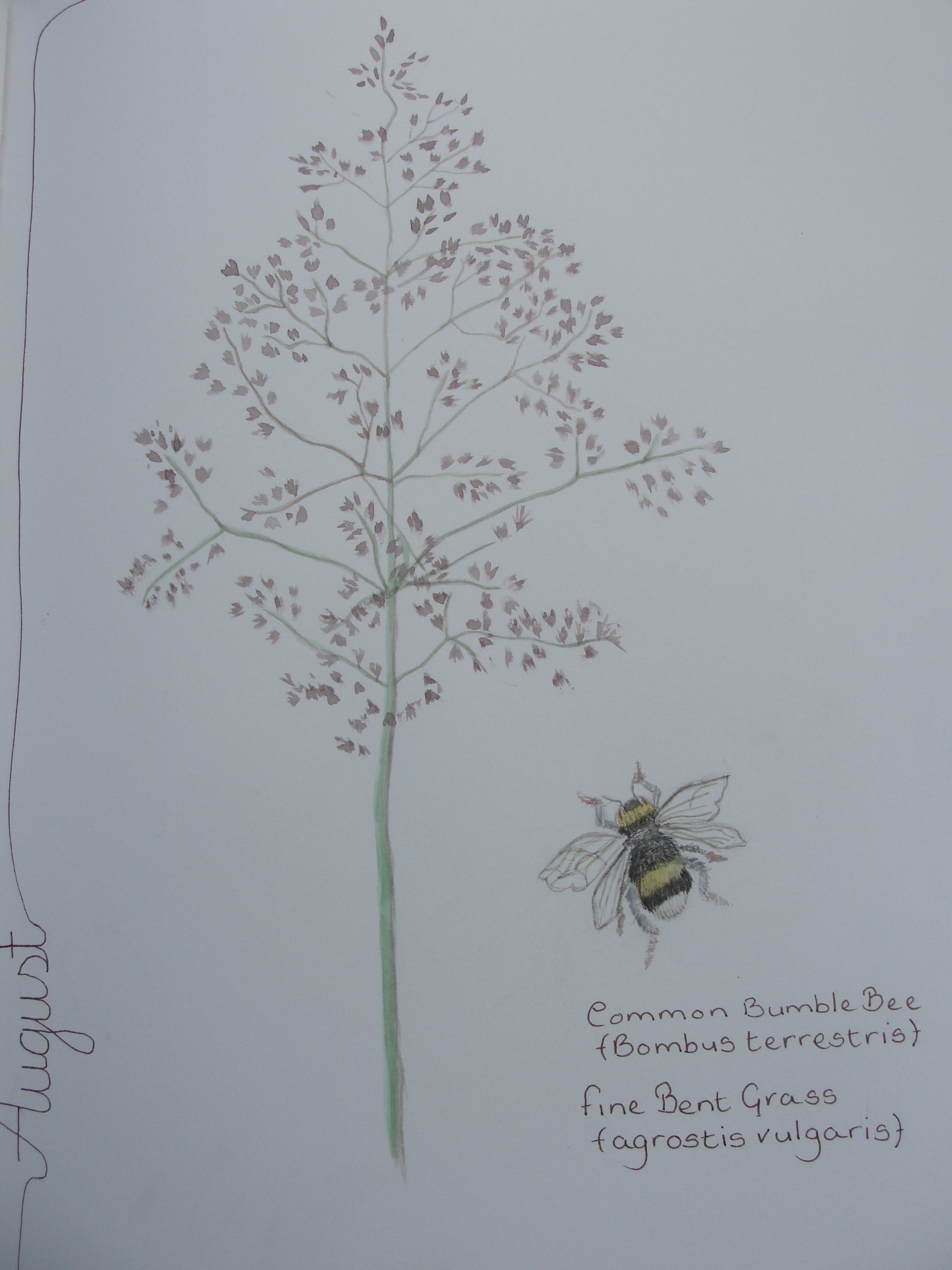 Watercolour is an exciting medium to get started with as it requires little equipment; the paints themselves, a brush or two and heavyweight paper. Autumn is ablaze with beauty, just begging to be painted, so get hold of some supplies & get stuck in! I would love to hear how you get on!