If you are just joining us, we have been discussing 10 simple steps you can take to get started with classical homeschooling. The next three posts will be about curriculum, planning, scheduling, and logistics. I can't lie, I love lists, organizing, planning, and scheduling. Sometimes I love it too much and elevate to a higher place than all of the more important principles we have been discussing. This may be the most dangerous thing for the classical educator. Because our entire curriculum rests on these normative, more important, principles, immersing ourselves in the principles that govern the Christian classical tradition is absolutely essential. If we undercut them we really do not have a Christian classical curriculum any more. Therefore, if you haven't read the prior posts, I highly recommend you do and then reread them as necessary, I know I will be. You can find them here.
With that disclaimer made let's dive into step eight for getting started with Christian classical homeschooling. The classical curriculum cannot be done in isolation. We must have other people around us to engage in the vital dialectic discussions and instruction and to hold us accountable and encourage us when we need it. This could be a family at home, a small group of friends and students getting together once a week, a co-op/homeschool community, and online classes. This also includes a mother's personal growth and continuing education. Personally, I am always reading some book, forum, or blog series or involved in some activity or community that causes me to stretch intellectually and grow in my understanding of classical education. Sometimes, the season I am in dictates that my mentors are in books and that is okay too, so long as we do not neglect our own growth.
Beginning the discussion this way gives each family an additional lens for making the detailed curriculum decisions. So far our lens for choosing curriculum is: it should allow for the cultivation of wisdom and virtue, support the spirit of inquiry, attend to the seven liberal arts and the four sciences in a classical way, be able to be taught mimetically and socratically, and support the development of style and conscience. It is true that this is an ideal list and I can guarantee you will feel the tension between the real and ideal as you make decisions and that is fine. The goal then becomes to move towards the ideal, while giving plenty of grace for the real and pray we judge rightly in the process.
For us, the literature, writing, and discussion are the most important to do in community, so I look to do those arts with friends, or in our case a small co-op that meets at my house once a week. Beyond that, I have decided to focus on mastering the language arts and becoming better at teaching those classically. Therefore, I have chosen a math curriculum that is more hands off for me. This is not ideal, but it is a prayerful judgment I made to give my self grace in the reality of the day to day. I encourage you to consider similar things. It has been extremely helpful for us and allowed us all to enter a level of rest that was escaping us prior to this paradigm shift.
Some things to consider as you choose what fits your family is: your commitment to this method, time availability, finances, and how many external supports you personally need to be successful. For example, when we were going through a rough time financially we did not consider options where tuition was involved. Furthermore, I am willing to do quite a bit of studying and preparing, therefore, I can choose things that are more teacher intensive. I also know that I need accountability or I will not master the daily like I should, so I HAVE to have a community that I meet with every week. Finally, I do not do a lot of things outside of homeschooling. My work is an extension of homeschooling so a lot of it can be woven together. Therefore, I can spend more time on lessons.
Know yourself, your family, and do not compare. We are all planted exactly where we are meant to be, in the marriage we have been blessed with, with the kids we were given, in the churches we are going to, and the neighbors and friends we have. Work with what you have and you will be blessed. I have learned this lesson the hard way. We went through a time where we were in and out of work for nine years.  It was through this refining fire that I began moving closer to God and reflecting more of His image. I used to force ideas and situations to work, especially when it came to things that cost money or ways to make money, but I have been slain at the hand of ambition to many times and it is not worth it.
If you find yourself there, go to your loving heavenly Father, lay ambition and comparison at his feet and dance for joy in what he has given you, be faithful with it and you will have everything you need and more. I know what it is like to be there, take heart our God has overcome the world.
Ways of Homeschooling Classically
You can homeschool classically through any of the following avenues or a combination of them.
Missionary Method
I call this method the missionary method because you could teach classically this way even if you lived in a third world country with no internet and no electricity. This method could be accomplished for under $200 per child. You need to choose a form to follow, have access to a book store and/or online access to order things, but after that it would be you, your kids, and the books. You would select curriculum and books where everything you needed was in the lesson plans, text, or in your mind. The following resources vary in terms of price, teacher time required, and depth of content, but are classical in nature. You can apply the mimetic sequence and Socratic teaching methods to any of these programs listed with a fair amount of ease. The one caution is the study guides some of the companies write, while they are good, the guides can make it easy to fall into check list mode instead of a using them as a tool for lively and dialectical discussion. Be careful and keep the principles in the fore front of your mind.
* Book stores around the world
* Charlotte Mason's Curriculum proposal (Ambleside online and Simply Charlotte Mason are great options)
* David Hicks Curriculum Proposal (chapter 9 in Norms & Nobility)
* Lost Tools of Writing by CiRCE
* Rays Arithmetic & McGuffey's Readers & Harvey's Grammar 
Missionary Method + Online
Resources to help you teach (lessons plans, forums, guides) (both of these resources are FREE, minus the cost of books.)
* Ambleside Online
* Simply Charlotte Mason Curriculum guide 
Online Christian Classical Schools
Resources and schools that teach/tutor for you while still maintaining a homeschool status. These will be the least mom intensive and the most expensive.
* CiRCE Online Academy
* Schola Tutorials 
* St. Raphael Orthodox Online Homeschool
* Harvey Center for Family Learning
* Memoria Press Online Academy
* Schole Online Academy by Classical Academic Press
Co-ops and Communities
These will be various and many in number, so you will need to do a local search for Christian classical co-ops/communities. Be sure to really ask questions and find the right fit for your family. Be sure to search for Charlotte Mason co-ops as well. I personally believe Charlotte Mason's methods are a beautiful embodiment of true Christian classical education.
Combination
This is what most of us do, some combination of the above methods. You decided what your family's needs are and make decisions accordingly. There is one need, that all of have and that is to become more like Christ. No matter what we decide, we need to be sure we are never undercutting this eternally important goal.
What do you do in your homeschool? I would love to hear about it.
Expanding wisdom, extending grace,
Jennifer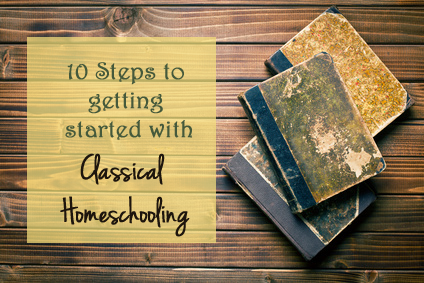 Return to the Getting Started with Classical Homeschooling series