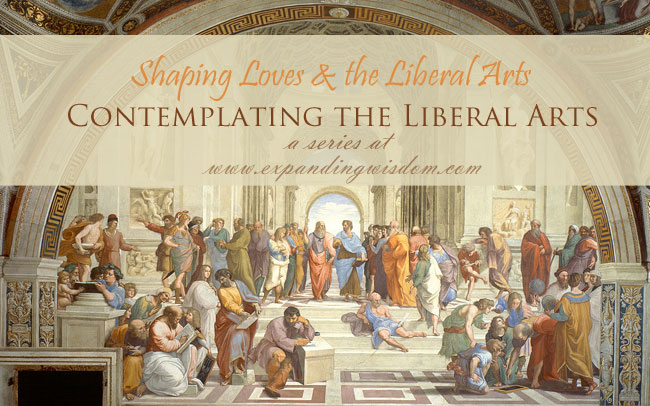 During the month of January, we are taking a deeper look at the liberal arts through Ravi & Jain's book 'The Liberal Arts Tradition: A Philosophy of Christian Classical Education.' I am truly looking forward to all that we discover and learn. To start things off, we are blessed to read a wonderful article by Heidi White on a topic that is close to her heart -shaping loves. Let us read.
Shaping Loves, and the Liberal Arts
by Heidi White
At a classical education conference this summer, I attended an excellent lecture on the teaching methods of Socrates.  A fellow attendee asked the speaker about teaching Latin.  How could she teach Latin since she did not know it herself?
The answer: study Latin with them.
Her response was lukewarm, but I nearly cheered out loud.
She seemed to ask how to teach the thing without actually doing it herself.  It is my belief that even if that was possible, she would be colossally missing the point.  The beauty and wisdom of the classical tradition is that pedagogy (teaching methods) and curriculum (scope and sequence of content) are the supports for a liberal arts education, but not the essence. In focusing only on these components, we risk missing the thing itself.
So what is the thing itself? How do we capture and maintain the wonder of the Great Tradition?  How do we instill a liberal arts education effectively? The trivium (grammar, logic, rhetoric) and the quadrivium (arithmetic, geometry, astronomy, music) are, rightly, the subjects that we teach, but the thing itself goes much deeper, to the heart of our humanity.
In the masterful The Liberal Arts Tradition, a book every classical educator should read, Ravi Jain and Kevin Clark write, "The foundational distinction between traditional education and modern education is that the ancients believed that education was fundamentally about shaping loves," (emphasis mine).  This vision sets the classical tradition apart from other models of education.  Anybody can learn Latin grammar, but it requires a honed vision to long for it.  A classical education is not about "using" knowledge for perceived gain (e.g. "getting into college" or "getting a job"), but about awakening the wonder of being fully human within the context of an enduring tradition. At its heart, education is about shaping what my students love.  Love breathes life into learning.  Love animates theory, content and pedagogy.  Love unites our hearts with our minds.  Bernard of Clairvaux put it this way: "He who understands truth without loving it, or loves without understanding, possesses neither one nor the other." If this is true, my one and only goal as an educator is to create a space for my students to love what they learn.
In applying this vision to teaching the liberal arts, I found the thing itself.  Teaching through the lens of shaping loves unifies and focuses what could otherwise be a daunting task.  If our goal is to aim students' love toward wisdom and virtue through a rigorous course in the liberal arts, then we desire them not only to learn, but to love the trivium and the quadrivium.  This is an immense challenge.  We are each flawed jumbles of glory and fallenness, and educators must acknowledge this conflict when shaping a student's loves.  Most students left to themselves will choose the path of least resistance, which is certainly not the liberal arts. As C.S. Lewis eloquently expressed in Out of the Silent Planet, we are "bent" inward, skewed toward self-indulgence.  This is why a child's loves must be shaped.  It requires intervention to love the the goodness, truth and beauty woven through challenging content, because these qualities look upward to God and outward to humanity.  Teaching a child to love their education requires them to see beyond themselves.
So how do we do it?
The guiding principle of teaching through the lens of shaping loves is that love is far more caught than taught.  The love of a child is shaped by the love of his leaders.  This is a fairly easy principle to apply to the liberal arts for which we have a natural love. Teachers who love what they teach tend to be enthusiastic and creative teachers.
But what about the subjects for which we have an innate antipathy?
This, I have learned, is the greatest opportunity of all.  As I teach in order to shape loves, I have unexpectedly encountered the beating heart of discipleship.  Since I am driven to instill an abiding love of the trivium and the quadrivium, I must love it too.  This is the essence of the thing itself.  This is what sets apart, or makes holy, the rich legacy of the classical tradition.  This is why we should study Latin (grammar) – or debate the issues in The Republic (rhetoric) or practice an instrument (music) or peer through a telescope on a clear night (astronomy) – alongside our students.  We have a sacred commission to reclaim our own loves as we shape our students'.
A great teacher is first and foremost a great learner.  Let us learn with our students. Wonder and discovery should be the catalyst of instruction.  "I wonder…" and "Let's find out…" must inform the language and liturgy of teaching.
Wise educators will make the language of shaping loves part of their teaching habits.  Consider reciting prayers or purpose statements for each subject.  They should include what is worth loving about that academic discipline.  Avoid attempting to motivate students with how they will "use" their knowledge in the "real world."  The world of a child's mind is real enough, and that is what we are shaping.  Instead, use the lingua franca of shaping loves.  "Yes, math drills are challenging. I think so too. It takes character to love hard work and structure, but they are worth loving. Let's keep going. We learn math because its order and certainty reflect the character of God. I love learning with you…"
This principle compels us to be mindful of competing, or lesser, loves in a classroom setting.  As teachers, we model to our students what to love.  Wise teachers guide their students to order loves wisely.  For discerning teachers, this almost always comes down to two questions: "In my classroom, what do we choose to do first?" and "What do we choose to do most often?"  Structure the classroom to banish, or at least minimize, the presence of lesser loves, especially the ones that compete with the rigor of a liberal arts education.  In today's technologically savvy culture, this principle particularly applies to the personal use of smartphones and tablets.  Are they bad? No. Can they make learning easier? Maybe. Do they have something to offer the great tradition?  Certainly.  But easier learning is not the goal. Shaping loves compels us to engage students to love the challenge of the trivium and the quadrivium.  This motivates us to teach in a way that invites students to love beyond what is easy, into a fuller expression of their humanity through reading, play, discussion, memorization, creativity, movement, commonplacing, debate, drama, and much more.
As educators, we will shape loves. We can do so intentionally through habits that orient us and our students to an abiding love of learning.  Let us illuminate a path for our students to recognize and rejoice over what each of the seven liberal arts represents in a life steeped in wisdom and virtue. May we forever love the expression of grammar, the rigor of logic, the beauty of rhetoric, the order of arithmetic, the symmetry of geometry, the harmony of music and the wonder of astronomy.
---
Thank you Heidi for your insight, wisdom, and loving treatment of this subject. Let's continue the conversation in the comments section. Return to the 'Contemplating the Liberal Arts' series page here.
Heidi White is a classical homeschooler with two young children.  She teaches Literature and History at a cooperative classical school in Colorado Springs called The Journey School. Heidi also writes fiction and is currently working on a writing project about shaping what children love through education and discipleship.