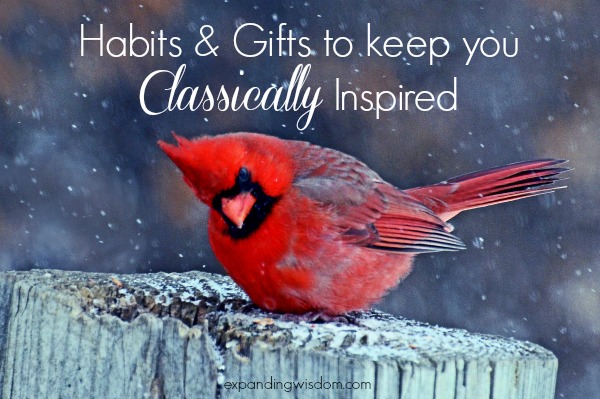 I remember when I first heard about the Classical Tradition. I was inspired and enchanted. I knew I wanted this for myself and eventually my children. As I began to encounter the Christian classical tradition, I was surprised to find that I didn't remain inspired. There were times of real doubt, discouragement, questions, and tensions that seemed to take a long time to resolve. I had wrestled through whether this was the right tradition for us to follow in our homeschool, and I knew it was, so then why was I struggling so much?
I believe it all boils down to belief. We live on this side of eternity and so there will always be tensions between the real and the ideal. In addition, the more we make the ideal, the divine, and the heavenly our goal the more the tensions will rage. We live in a world where the majority of what we experience is in opposition to the Christian Classical Tradition. Therefore, it will take work to keep our minds and hearts filled and inspired. I am not talking about a superficial inspiration here nor am I discounting the suffering that we each must endure on our own sanctification journeys. I am saying that we need be nourished on the good the true and the beautiful. We need to experience community where others are seeking this. We need to hear, see, smell, and taste as much of these truths as we can, for the sake of our own souls as well as our children's.
Even more as teachers leading others in this tradition we encounter other difficulties. We desire to give an answer for why we do what we do, we want to have confidence that an ounce of what we are doing is "on track", we feel the need to grow in our teaching skills, and we get worn out and need to encouraged. We need our belief in our God and the tradition built and inspired consistently.
One of my favorite business writers is Mary Kay Ash. She talked about the need for consistent inspiration. She said that we should be doing something every three months to keep the inspiration and prevent fizzling out. In addition, we should daily be building belief in whatever area we work. So for Mary Kay Ash and her business she scheduled large inspirational meetings once every three months and gave suggestions for books and tapes her sales team could pick up or pop in when they needed an uplift.
In our case as Christian classical educators there are many opportunities to direct our hearts to the nourishing things we need to keep working towards the divine goal of leading children to Jesus so wisdom and virtue may be cultivated in them. The following are some of the things I go to to fill my cup. If someone asks you what you want for Christmas, a birthday, or Mother's Day these are great ideas to share with them too. Personally I ask for the CiRCE Conference and other conferences or retreats for Christmas, my birthday, and Mothers Day from everyone. It is the only way I can afford to go to all these events, and I cannot imagine not going. They are too valuable.
Every 3 Months
You should try to find a class, conference, retreat, or something else that is more intensive. It should be something related to the Christian classical tradition or your religious tradition. For example, my cup gets filled just as much by going to the CiRCE conference as it does when I go to my women's Church retreat. Both fill my cup in a different and important way. Both influence my ability to keep going and fighting the good fight. Here are some conferences, practicums, and retreats I am aware of that are worthy.
Fall
CiRCE Midwest Regional Event (Location- Midwest Region)
Look for some other retreat you are interested in (marriage retreat, religious retreat) There are some houses run by Catholic Nuns in our area where you can go for donation based silent weekend sabbatical. I am sure there are other places out there like that. Just search for them or ask you pastor, priest, etc…
Winter
Look for some other retreat you are interested in (marriage retreat, religious retreat)
Take an extra long break from school, read extra books, listen to extra audio recordings, go the extra church services for Advent, etc…
Spring
Homeschool Conferences begin happening in March in most places. Look for the speakers that are committed to the Christian classical tradition.
Look for some other retreat you are interested in (marriage retreat, religious retreat
Summer
The CiRCE Summer Institute: A Literary Retreat
Hill Abbey Summer Hall by Wes Callihan
The National Charlotte Mason Conference (Location changes each year)
The Living Education Retreat (Minnesota)
Society for Classical Learning Conference (Mostly geared towards schools, but still a great conference for anyone to attend)
The Classical Conversations Parent Practicums (These are FREE and anyone can go, you do not have to be a member of CC to go)
Anytime
Center for Western Studies Reader's Seminar by John Hodges
The Expanding Wisdom Community and Reading Group
Daily
In addition to quarterly bigger events, I do things daily that keep me inspired and filled up. First and foremost I do my best to read and study my Bible every morning, practice daily repentance, worship, and pray throughout the day. Since all my problems have to do with me, I need to change, and I can only do that at the foot of the cross. So beyond the things I just mentioned I do go to other resources that serve this same end or help with particulars after I have dealt with the first things. Here are some things I read, listen to, and use to help me along.
Books
I always try to have a few books I am reading. I keep a reading a schedule and also give myself the freedom to pick up other random books or articles as the need arises. I also give myself the freedom to take as long as I want on a book, unless I am reading with a group. The list of books could truly be endless so I will only mention a handful books that feel I would not be the educator, woman, mother, and Christian I am today had I not encountered them.
1. Norms and Nobility: A Treatise on Education by David Hicks (Education)
2. Consider This: Charlotte Mason and the Classical Tradition by Karen Glass (Education)
3. The Weight of Glory by C.S. Lewis (Christian Doctrine and Living)
4. Standing by Words: Essays by Wendell Berry (Living, Education, Christian Living)
5. Plato: Middle Dialogues: Gorgias, Meno, Phaedrus….(Education & Thinking)
6. Victory Over the Darkness: Realize the Power of Your Identity in Christ by Neil T. Anderson (Christian Living)
7. My Utmost for His Highest by Oswald Chambers (Christian Devotional)
8. This Present Darkness & Piercing the Darkness by Frank Peretti (Fiction Novels)
9. Loving Our Kids On Purpose: Making A Heart-To-Heart Connection by Danny Silk (Christian Parenting)
10. Cleansing Stream Study & Retreat (Christian Living & Parenting)
Audio Books & Conference Tapes
I keep my iPhone filled with all the past CiRCE Conference Audio Recordings. This is great when I am driving children around or cooking and the children are doing something else. I keep one headphone in so I can hear the talk with one ear and the children with the other ear and sometimes I put both ear pieces in -depending on the day.
Audio Books of anything you like to listen to are great for you and your kids. We used to have an Audible subscription and we still listen to many of those selections like the Chronicles of Narnia, Tolkien, and my own non-fiction sections like Getting things Done, Start with Why, and Peacemakers. Currently download free books from LoyalBooks.com and Librivox.org.
Tools I use to Help Me Attend
1. iPod or iPhone that I can upload music and audio books to: ~you can spend less on an iPod by purchasing a Certified Refurbished one like this~
2. Good Headphone with a mic so I can listen in the car and switch over to phone safety. ~I always spend a bit more on mine because otherwise they break super easy. This is similar to the ones I normally buy~
4. Simple and thin journals you can carry with or fit inside a book so I can make notes where ever I am. The Moleskine Cahier Journals are my favorite.
5. A consistent routine based schedule where leisure and rest has a place on paper. The main resources I use to accomplish this (beyond dealing with the heart issues) are: Getting Things Done: The Art of Stress-Free Productivity by David Allen, Paperless Home Organization & Simplified Organization Course by Mysite Winkler, Simplified Dinners by Mystie Winkler, & Amongst Lovely Things' posts about loop scheduling.
6. Good coffee and beautiful coffee mugs Etsy is filled with talented artisans and their beautiful creations
7. Christmas Lights around the tops of my cabinets
8. Candles around the house
9. Something on which I can play music out into the room. We use a computer or an iPod/iPhone and the Pandora 'Bethel Music' station or 'Harp Concerto in B-Flat', we also select specific pieces we are interested in through Spotify. (Spotify sometimes has inappropriate ads, but if you buy music a lot and are going to do the subscription it is well worth it.)
10. Have the kids do chores. (My favorite Christmas gift ever!)
The last five help the atmosphere. The importance of forming the atmosphere cannot be overstated, it is just as important as the other things. I do hope all of you have a restful and bountiful holiday season, Merry Christmas and Praise to Emmanuel. May the festivities begin.
Expanding wisdom, extending grace,
Jennifer
More gift lists around the web