Have you ever wondered "Is what I am doing enough?" Most homeschool moms have, I know I have, especially in the areas of curriculum and classes. I have often wondered why this is such a common and unresolved problem for so many homeschool moms. I have also wondered if it is even possible to have confidence in the decisions we make for our homeschools.
As I have wrestled with this, I have learned a couple things that have given me some confidence and direction in this area. Of course, I am always growing and learning, but there are some real things I can do. I can start with why. In business, this is a typical step for successful people. I have read books and listened to speakers who are all saying the same thing, "Know your why," which basically means to know with precise clarity why you are dong something. There is a reason for that. In fact, there are three main reasons. It provides focus, makes it easy to say no, and increases endurance. (If you did not read and do the activity from yesterday's post, you can go back and do it now. You will get more out of this post if you do)
First knowing your why gives you focus. There are thousands of options out there we could choose from. Have you been to the book fair at a homeschool convention?
Exactly! Without a why, all of those thousands of options are potential choices. How exhausting! Matthew 7:13 says it this way "Enter through the narrow gate; for the gate is wide and the way is broad that leads to destruction, and there are many who enter through it." I realize this is talking about salvation, but there is a principle here. Having too many choices is not healthy. When you know your why, you are –in a sense –determining what the end result is. Now you can narrow your focus to the options that will help you accomplish this.
Having this focus goes hand-in-hand with the second reason. Knowing your why makes it easier to say no. When you have narrowed your focus, all those other options are automatically a "no." You can have confidence that saying no to that great looking curriculum will be fine because you have thoughtfully considered what you are moving towards in your homeschool. The following quote by Wendell Berry from his essay Poetry & Marriage has given me a tremendous amount of rest when it comes to saying no.
"In marriage as in poetry, the given word implies the acceptance of a form not entirely of its own making. When understood seriously enough, a form is a way of accepting and living within the limits of a creaturely life. We live only one life, and die only one death. A marriage cannot include everybody, because the reach of responsibility is short. A poem cannot be about everything, for the reach of attention and insight is short."
Likewise, a homeschool cannot use every curriculum and work towards every goal. In fact, just like marriage dictates a particular form, so one's 'why' will dictate a particular form. One cannot have a marriage by observing the forms of single-hood, and one cannot realize a vision by following every path.
Finally, knowing your why provides endurance. We all have hard days. We all have days, if we are honest, where we question if we really want to be homeschooling. Sometimes we have long seasons of days like this. I know I have. We recently came out of a two year long season of unemployment. I had several people tell me I should go back to work. I even questioned it at times myself. However, I knew my why and I was convicted in my heart that my kids should receive a particular kind of education. So I did not waver. I kept going. Knowing my why, gave me endurance to push through seemingly impossible situations, and guess what, we had everything we needed every step of the way. God is good and God is faithful.
So how do we translate yesterday's homework from '10 Steps to Getting Started with Classical Homeschooling' into a workable plan and how do we begin allowing that plan to inform our decisions?
First I think it is important to review our lists through the lens of prayer and scripture.
Proverbs 29:18 says "Where there is no vision, the people are unrestrained, But happy is he who keeps the law." NASB
To understand how significant this verse is for our purposes, it is helpful to look at the Hebrew words. Therefore, I looked them up for us. The word vision came from the Hebrew word chazown which literally means divine vision or revelation and is usually associated with the prophetic visions of the Biblical Prophets; the word unrestrained came from the Hebrew word para` which means to act as leader or let loose, and the word law came from the Hebrew word towrah which literally means instruction, and can refer to both divine and human instruction. When we consider the Hebrew meaning of these words, this verse gives the idea that without divine vision, people will act as their own leader and live loosely, but he who attends to divine and human instruction will be happy or blessed.
I don't know about you, but I can so relate to this. How many times have I ignored the divine revelation of Scripture and acted as my own leader, too many to count. Father God, forgive me for this. I want to align my why with God's why. I know we all will have different specifics on our lists and I think that is great. We all have a variety of passions and each of our families' are called to different work. However, I think if we are Christians the Scripture does give us a why that came straight from the lips of Christ. In John 17 Jesus prayed to the Father and spoke out what He desired for us.
"I'm praying not only for them (the Disciples)
But also for those who will believe in me
Because of them (the disciples) and their witness about me.
The goal is for all of them to become one heart and mind—
Just as you, Father, are in me and I in you,
So they might be one heart and mind with us.
Then the world might believe that you, in fact, sent me.
The same glory you gave me, I gave them,
So they'll be as unified and together as we are—
I in them and yo
u in me.
Then they'll be mature in this oneness,
And give the godless world evidence
That you've sent me and loved them
In the same way you've loved me." –John 17:20-23, The Message
Regardless of whether we are to be dancers, doctors, priests, or homeschool moms we all are meant to be whole and complete and glorious displays of the Father's love to the world. If we focus on this, we can be confident we have the Holy Spirit on our side to guide us into all truth as we make decisions about homeschooling and family.
Second, we need to learn to look at the curriculum and methods and discern if it will actually help us and our children move towards the vision. This takes time, but we will help you get started and be a friend as you walk it out. It's only fitting since we are on the same road moving towards the same goal. The next several posts will be taking a closer look at some principles and characteristics we can look for when making curriculum and teaching method decisions.
So our homework tonight is to pray and meditate on God's word. Lay our lists before him, give it over, and ask what he wants our lists to be. It may be scary, but perfect love drives our fear, know I am doing this right along with you, and we will probably be surprised and blessed by what He gives back. Until then I leave you with this.
"Now may the God of peace Himself sanctify you entirely; and may your spirit and soul and body be preserved complete, without blame at the coming of our Lord Jesus Christ." 1 Thessalonians 5:23 NASB
Expanding wisdom, extending grace,
References:
Standing by Words: Essays
 by Wendell Berry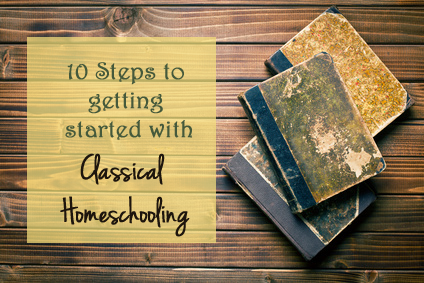 Return to the Getting Started with Classical Homeschooling series