Depending on your personality and experience you may know exactly how to plan for your homeschool or you may have no idea where even to begin. There are thousands, if not millions of pieces of information, examples, downloads, and more online to help you do these things. Therefore, rather than create one more set of planning pages to navigate and decide on I thought it might be more helpful to look at scheduling and planning through a uniquely Biblical lens, that way our focus can be honed to only a handful of choices rather than gazillions. 🙂
First, let us consider our why and our purpose. Why should a Christian classical homeschooler plan and schedule? I can think of three main reasons, alertness, stewardship, and what the ebb and flow of life teach us about reality.First, regarding alertness, in Ephesians 6 we learn about the armor of God. I think all of us have heard or read about that, maybe so much so that it has become a bit of cliché for some of us. J A while back I was studying that section of scripture in depth and was quite surprised by what I had never noticed before. There were two small words in verse 18 of chapter 6 that I must have read, but I never noticed. I guess I never noticed them because whenever I heard a sermon about this passage, the emphasis was always given to the first part of the passage, but the instructions did not stop there. He goes on to tell us to pray and keep alert. It dawned on me that this must have been pretty important if it is also included in Scripture. I began to think about being alert, the Greek word that is translated into 'be alert' literally means to take care of or to keep zealous watch over. What does that look like in real life and am I living in that state when it comes to homeschool? I had to be honest, I was not there. According to Ephesians 6 what would I not be able to do if I fail to be alert, pray, and put on the armor of God? Well, its part of the instructions given to Christians that allow us to "stand against the devil's schemes". While I do not feel equipped to give a long list of what I think the devil's schemes are, I can be confident that his schemes have a lot to do with deception and to keep us from becoming one with the Father as Christ is one with the Father.
Let me ask you something. If the whole point of Christian classical education is to become one with the Father, to be made complete, do you think we may encounter the adversary of our souls when we commit to making wholeness a reality in our family's life? You bet we will! How much more should we make sure we are alert!?
The things that cause us to be distracted will vary, which is why scheduling and planning will vary. We each need to pray and ask God what is standing in the way of us being alert and taking care of different aspects of our homeschools. For me, I am extremely distracted by social media at times and in turn that causes me to not take care of certain things. When that happens, I will go on a social media fast. In addition, I get distracted from focusing on school work with my kids when there are messes around. So I instituted Daily Routines that get the work done, but also prevent me from taking "school time" to do it. I also get very frustrated when I am working with one child and the other children keep coming up, interrupting, and asking questions. Therefore, I schedule what time each child does what subject so no child is working on "I need mom subject" at the same time as another child. I am also distracted by my never-ending to-do list. Therefore, I chose a method of managing my schedule which keeps it off my mind and in a trusted system that I can access when I need it. One more thing that prevents me from taking care where I need to, is unforgiveness and fear. Nothing puts me in the state of anxiety, worry, and mental gymnastics like fear and bitterness. It is all consuming. Therefore, I make a regular practice of forgiving people, even if it is small. I do not want to participate with bitterness at any level. At first glance, these things do not seem very spiritual, but they are things that keep me from being alert, taking care of and perceiving what is going on around me. Therefore, they must be dealt with.
Second, regarding stewardship, the Scripture tells us through the parables of Jesus that we are managers. We have been given time, life, resources, and talents that we can either invest in something that multiplies or we can squander them. Most of us know that if we do not have a budget for our money then we will not have any when we need it. Scheduling and planning are a budget for our time, resources, and talents. It is only when we are intentional and faithful with them that they tend to increase and produce fruit.Lastly, the ebb and flow of life teaches us just as much about reality, God, and creation as our subjects do. Just like the way we teach makes all the difference for a classical education, the way we view and move in and out of activities and tasks makes all the difference for a classical education as well. I am really just beginning to learn about this area. So I will direct you to what I am currently learning from. If you haven't joined the classicaleducator.com community then you will need to do that first. Once you have joined you have access to a vibrant library of videos, resources, and forums. The one video I have been quite enchanted and changed by is 'The Liturgical Classroom and Virtue Formation,' by Jenny Rallens. This talk goes into so well the concept of the ebb and flow of life teaching us just as much as the content of our courses. Ms. Rallens is a classroom teacher, so I had to listen for the principles and apply them to the homeschool. In addition, there is a network of bloggers I am just becoming aware of that talk about this and related topics. I had no idea there were so many amazing classical/Charlotte Mason bloggers and readers. I feel like I have a brand new sisterhood of like-minded women! Such a blessing! I will include some links that relate to scheduling and planning below.
So my prayer for us is that whatever we do for scheduling may we do it for the Glory of God, challenge ourselves to be honest about what things are keeping us from being alert and a faithful steward, and may we gird ourselves with courage to accept those realities and release them from our lives. Amen.Expanding wisdom, extending grace,
Jen
ResourcesGetting Things Done: The Art of Stress-Free Productivity
 by David Allen
Managers of Their Homes: A Practical Guide to Daily Scheduling for Christian Homeschool Families
 by Steven & Terri Maxwell
Teaching from Rest by Sarah Mackenzie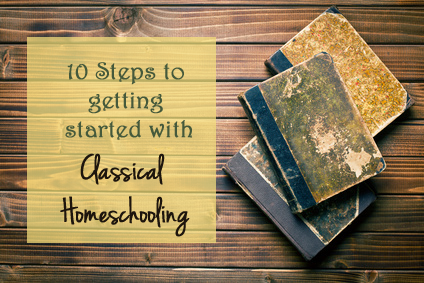 Return to the Getting Started with Classical Homeschooling series